This product has been discontinued and removed from our shelves.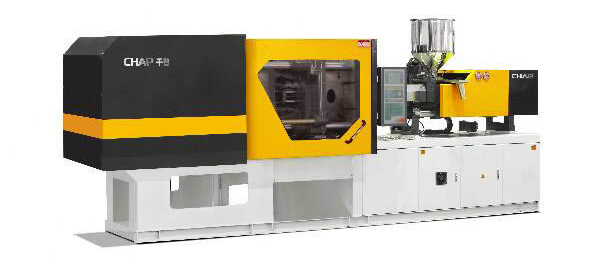 Technical Specifications of Plastic Injection Molding Machine
Description
Unit
CMG1680
Injection Unit
Screw No
/
A
B
C
Screw diameter
mm
42
45
50
Screw length-diameter ratio
L/D
22
20
18
Theoretical injection capacity
cm3
343
395
488
Injection weight(PS)
g
312
359
444
Injection pressure
Mpa
177
154
125
Plasticizing capacity(PS)
g/s
16.5
18.7
22
Screw rotational speed
rpm
0~180
Clamping Unit
Clamping force
KN
1680
Moving mould distance
mm
420
Tie bar spacing
mm
460×460
Max. mould thickness
mm
500
Min. mould thickness
mm
180
Ejector stroke
mm
120
Ejector force
KN
39
Ejector bar amount
PC
5
Other Unit
Max.pump pressure
MPa
16
Pump motor power
KW
15
Heating power
KW
9
External dimension(L×W×H)
mm
5030×1430×1840
Machine weight
kg
4600
Material cylinder capacity
Liter
25
Oil tank capacity
Liter
300
Welcome to CHAP! As a China-based plastic injection molding machine manufacturer and supplier, CHAP has been ISO9001 certified. With advanced manufacturing technology and production equipment, we can provide not only plastic injection molding machine, but also vacuum rubber vulcanizing machine, C-Frame Transfer type molding machine, plate rubber vulcanizing machine, etc. Our products feature reliable quality, stable performance and competitive price. They are exported to Europe, South America, Southeast Asia, East Asia, Middle East and other regions. We welcome you to try our products, and we are certain that you will be satisfied with your purchase. For orders, please contact us at CHAP. We look forward to working with you.