This product has been discontinued and removed from our shelves.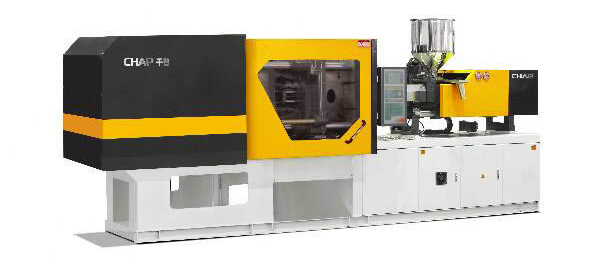 Technical Specifications of Plastic Injection Molding Machine
Description
Unit
CMG5000
Injection Unit
Screw No
/
A
B
C
D
Screw diameter
mm
75
80
85
90
Screw length-diameter ratio
L/D
55.7
21
20
18.9
Theoretical injection capacity
cm3
1727
1965
2218
2487
Injection weight(PS)
g
1560
1788
2018
2266
Injection pressure
Mpa
191
168
148
132
Plasticizing capacity(PS)
g/s
51.4
58.7
65.4
71.8
Screw rotational speed
rpm
0~150
Clamping Unit
Clamping force
KN
5000
Moving mould distance
mm
770
Tie bar spacing
mm
800×780
Max. mould thickness
mm
810
Min. mould thickness
mm
330
Ejector stroke
mm
150
Ejector force
KN
200
Ejector bar amount
PC
15
Other Unit
Max. pump pressure
MPa
16
Pump motor power
KW
55
Heating power
KW
31.4
External dimension(L×W×H)
mm
8500×2010×2140
Machine weight
kg
20000
Material cylinder capacity
Liter
50
Oil tank capacity
Liter
900
Beginning its business in 2004, CHAP is one of plastic injection molding machine manufacturers and suppliers. We can produce various rubber machineries, such as vacuum rubber vulcanizing machine, C-Frame Transfer type molding machine, hydraulic two-platen plastic injection molding machine, custom rubber machine, and more. In addition, our rubber machineries are economically priced because we greatly reduced our production cost for our easy acquisition of abundant labors and sea transportation. For more detailed information, please continue browsing our website or call us directly.